This is a picture of my husband, Dan, during a 2-hour visit to the American Swedish Institute in Minneapolis. He became so tired on this trip, that he had to lay down. Most people experience fatigue at some point in their lives, but it usually doesn't last long. Once you sleep or even just quietly rest for a while, the fatigue goes away and you feel refreshed. Have you ever wondered why cancer patients are always so tired?
Healing takes energy
I remember the fatigue of early pregnancy. When I asked my doctor about it, he said that building a human being within my body was the equivalent of climbing a mountain. I had never thought of it that way. It takes that same energy to fight off a deadly disease! Cells are the building blocks of life, and apparently, they are heavy to hoist! That's why cancer patients are always so tired.
Treatment is a major reason why cancer patients are so tired
The first cancer treatment that doctors prescribed for Dan was a targeted treatment called, Tarceva. It's considered an easier treatment than traditional chemotherapies. Yet, within a week, Dan felt completely drained.  "It's like you're a car that isn't running on all cylinders," he says. "It always feels like bedtime. You fool yourself into thinking, 'I'll just go to bed and rest up and then I'll get up and do it.'" Dan chuckled. "Sure you will."
Then, two years into his cancer journey, Dan's doctor put him on traditional chemotherapy, and things went from bad to worse. Taking a shower, using the bathroom, even eating, were exhausting. After a chemotherapy appointment, he would spend days in bed, only getting up when he absolutely needed to.
It became a cycle
He had no strength and no endurance.
It only got worse over time because he didn't exercise much.
His muscles atrophied.
He had no strength and no endurance.
It only got worse over time because he didn't exercise much.
His muscles atrophied.
With fatigue comes a lack of drive and desire to do anything
"You have stuff to do, but you don't want to do anything," he says. "If you try to push through anyway, you pay for it and end up in bed for a few days, so you live within the boundaries of the fatigue."
This can lead to frustration, irritability, and depression. It can be hard at times to know whether what you're experiencing is fatigue or depression since they share many of the same symptoms. This is one of the reasons it's so important to discuss what you're feeling with your doctor. While fatigue is one of the most common symptoms in cancer patients, it's also one of the least discussed.
Mental Fatigue
Along with physical fatigue, Dan also experienced mental fatigue. It was often hard to concentrate for any length of time. He describes it as having a cloudy mind. "It's like your mind is yawning," he said.
Talking to people was also difficult. Dan would push himself through a conversation in order to stay engaged, But, by the end of the conversation, he would realize that he was wiped out.
He knows he's crossed the line when he can no longer think of the words he wants to say. He recalls a visit with a friend. "Twice during that conversation, I was convinced that nothing I said made any sense at all.''
Over time, the fatigue got worse.
Dan used to enjoy going for walks and biking. After a year of treatment, Dan would walk to the end of the cul-de-sac in our neighborhood and had to rest. He just couldn't keep going. walking up steps was hard. He was breathless all the time.
There are a lot of possible reasons why cancer patients are so tired. Doctors were especially concerned about Dan's breathlessness and fatigue because he has lung cancer. They needed to know whether it was cancer or the treatment that was causing his shortness of breath and fatigue.
Dan's doctor ordered lab work to make sure Dan didn't have another underlying problem that needed to be addressed such as low blood counts or anemia. She checked his lung function and ran a CT scan to ensure that his cancer wasn't progressing. After the doctor ruled out several possible reasons for fatigue, she said that his fatigue was due to his treatment.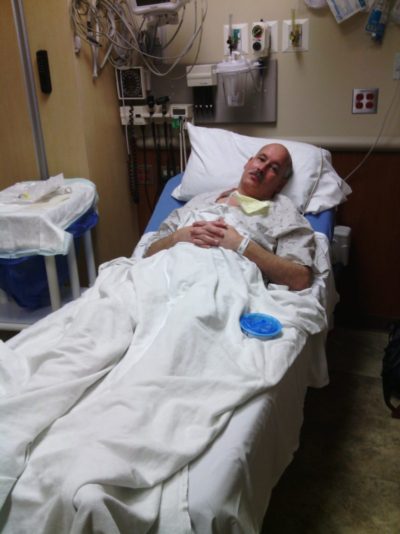 Getting Some Pep
Dan asked for the drug, Ritalin. Ritalin is best known as an ADHD drug given to children. Ironically, it can give adults more energy. Ritalin is a controlled substance, and it certainly isn't the answer for all fatigue. Only you and your doctor can decide on the best way to address you fatigue. For Dan, the fatigue was so debilitating that this was worth trying. And, it worked! It didn't completely fix the problem, but it made a noticeable difference in his energy levels.
Dan also drinks a caffeinated beverage each evening with dinner. For most of us, this would cause disturbed sleep patterns. But it gave Dan a boost, just long enough to get through until bedtime.
Know your best time of day.
Dan learned that he functioned best an hour after waking up in the morning. By that time, he's slept all night and then had a cup of coffee. This is the best time for him to do anything that requires a lot of energy or a clear head.
Dan also listens to what his body is saying. It's not worth the consequences of ignoring it. When he plans his schedule, he knows that he can only do one thing each day. It might be visiting with a friend, a real estate appointment, or going to church. Dan has learned that if the day will involve expending more energy than normal, it will need to come from somewhere. To prepare, he rests both the day before and the day after.
Every treatment is different
They will all have one thing in common—fatigue. Dan isn't on any treatment at this time, yet after over 5 years of various targeted treatments and chemotherapies, he still struggles with fatigue. Once you have cancer, and especially after years of treatment, you are never the same again. Finding ways of coping with cancer-related fatigue will go a long way toward enjoying life a lot more.
Now Available!!
Facing Cancer as a Parent: Helping Your Children Cope with Your Cancer
What Are YOUR Thoughts?

I'd love to hear in the comment section, below. I appreciate my readers as well as the writing community. To show that appreciation, I use Comment Luv. Just leave a comment below and your latest post will get a link next to it. Thank you!
In 2012 doctors diagnosed my husband, Dan, with stage IV lung cancer. Since then, our family has been learning what it means to face cancer. I've focused my writing and speaking on helping cancer patients and their families advocate for themselves and live life to the fullest, in spite of their illness. My goal is to help people face cancer with grace.
My book Facing Cancer as a Friend: How to Support Someone Who Has Cancer, is available on Amazon.com
Also, check out Facing Cancer as a Parent: Helping Your Children Cope with Your Cancer.
Also, put your memories into words with The Memory Maker's Journal.
I also blog at Heather Erickson Author/Writer/Speaker