The battles of the war against cancer are waged, daily within the bodies of patients young and old, wealthy and poor. There we have made great strides. In 2014, "UK death rates for breast, bowel, lung and prostate cancer combined are down by almost a third in 20 years." (1) Yet, like any war, the casualties at the hands of this disease are great. That's when hospice and palliative care enter the picture.
Curing vs. Healing
There comes a time when we need to switch from curative treatment to healing efforts. We can heal, even as we die. There can be healing of relationships, spiritual healing, letting go of the things that never should have been clung to in the first place. Hospice and palliative care services enable patients and families to heal.
There's always hope.
People often start out their treatment plan with big hopes. Over the course of a terminal illness, those hopes can be dashed, sometimes over and over again. It can be discouraging for patients and their loved ones. Even if they are disappointed, there's still hope. It just changes. They go from hoping for a cure to hoping for a quality of life. They hope for time. And then they hope for an end to life that isn't devastating. They hope they can say the things they need so much to say. They're hoping that when things get difficult, They won't be alone. They'll have people they can count on and trust.
Your Medical Team
You need to trust your medical team. If you don't–get a new one.
As you begin the process of dying, your doctor may tell you that the time is near. Yet, you might not think of yourself as dying. It's similar to how we don't see ourselves getting old until crow's feet are surrounding the eyes that are staring back at us in the mirror.
While you can't predict exactly when you'll die, your doctor has seen it countless times before, and as your cancer worsens, can give you an idea of when it may happen. It's important to trust your medical team so that you can make the appropriate plans. At the same time, focus on and making the most of each day, one day at a time. Stay involved with life, doing the things that you love, for as long as you can.
What is Palliative Care?
Palliative Care focuses on providing relief from the symptoms and stress of a serious illness. The goal is to improve the quality of life for both the patient and the family. Your medical team should talk to you about this at the very beginning of your cancer journey. It is helpful for all oncology patients, not just those that are terminally ill.
What is Hospice?
Many people think that hospice is a place, but it's not. It's actually a collaborative approach to providing care. You receive these services wherever you are living, whether at home, a nursing home, or a facility that specializes in the care of hospice patients.
Hospice and palliative care combined is the newest recognized specialty, receiving official recognition by the American Board of Medical Specialties as recently as 2006.
While receiving hospice and palliative care services, you will have a medical team that'll help you and your family manage any problems or issues related to your terminal illness. This team may include any of the following:
Doctors
Nurses
Home health aides
Massage therapists
Pharmacists
Nutritionists
Social workers
Physical and/or occupational therapists
Various types of counselors
Clergy who specialize in end of life care
This team is created specifically for your needs and can include as few or as many members as you want and need.
What You May Not Know About Hospice and Palliative Care
Hospice and palliative care services are covered by Medicare and at least in part by most insurance plans. Once you are part of a hospice program, you can leave the program at any time. You can always make adjustments to the services you receive.
In the past, people thought of hospice and palliative care services as "the end." They dreaded even the idea. The fact is, in a recent study, terminally ill patients were found to have lived longer on hospice, than those who did not use hospice services.(1)
One recent change to hospice care is that in some circumstances, you can still receive curative treatment for your illness. In the past, this wasn't allowed. There are also transitional hospice and palliative care programs where you receive palliative care until it is time to receive hospice. This gives patients a seamless transition in their services.
You aren't limited to a set amount of time on hospice. While the program is meant to be short-term (under 6 months), you can be reassessed for re-enrollment if you exceed that amount of time. You can also go off of hospice for any reason, and later receive services again.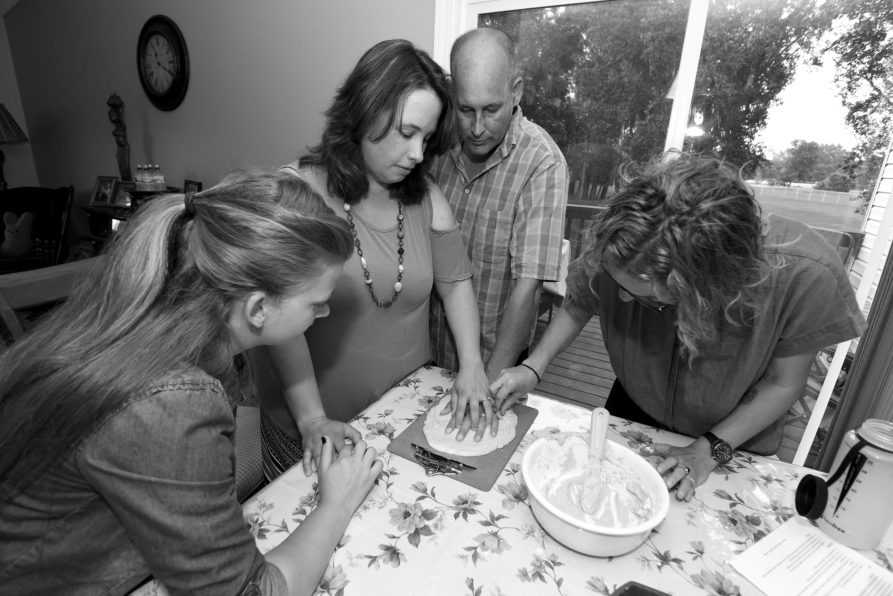 Our Story
My husband enrolled in a transitional palliative care to hospice program in late 2015. It gave me as his wife and caregiver a great feeling of comfort. We had access to medical care 24/7. This helped me to rest easy knowing that even in the middle of the night, I could call a nurse out to our home, if necessary.
We requested that an oncology social worker come to our home and meet with our daughters.  She was able to help them work through their feelings and anxieties about their dad's illness. She gave them some coloring journals that were made especially for children who had a parent with cancer. This helped them a lot!
Thanks to a new treatment,  his condition stabilized within a couple of months, and he was able to end his hospice services. When the time comes that he needs them again, he will resume.
The Sooner the Better
It is better to start hospice services sooner rather than later. Half of all hospice patients receive less than 3 weeks of care, while over 35% receive services for less than 7 days.(2) This isn't long enough to form a good, trusting relationship with your care team.
You will get physical support when you enter hospice, but if you enter too late, you can miss out on spiritual, emotional, and relational healing.
When making the decision about whether or not to look into hospice services, consider the needs of your family along with your own. Hospice addresses the needs of not only the patient but their family members as well. People who wait too long to get hospice care are missing out on valuable resources available to them and their family members. For a minimum of one year after the death of a loved one, family members are eligible to receive bereavement care and counseling through the hospice program.
Chaplains
Even if you aren't religious, or ascribe to a different faith tradition, it is extremely helpful to spend time with a chaplain. They may be available where you receive your cancer treatment or through your faith community. Hospitals almost always have a chaplain on staff. They're knowledgeable and experienced in helping people process the end of their time here on earth.
Our Story
Hospice and palliative care are especially helpful for patients who have young children. When Dan was extremely ill, the transitional palliative care to hospice program sent a social worker to our home to help our daughters through the difficult time. She gave our daughters specially designed coloring books for kids who had a parent with a terminal illness. These were incredibly helpful for the girls as they sorted out their emotions and fears. The social worker talked to them and answered their questions. She helped them to feel safe in an incredibly frightening time.
Is now a good time to look into hospice or palliative care services?
Having professionals who specialize in helping patients as they near the end of life can save you valuable time. Don't ignore the valuable resources that are within your grasp. If your healthcare team hasn't given you information about services that can help you at this time, tell them that you need to know who would be helpful to talk to so you can make plans for yourself and your family.
WHAT ARE YOUR THOUGHTS?

I'd love to hear in the comment section, below. I appreciate my readers as well as the writing community. To show that appreciation, I use Comment Luv. Just leave a comment below and your latest post will get a link next to it. Thank you!
In 2012 doctors diagnosed my husband, Dan, with stage IV lung cancer. Since then, our family has been learning what it means to face cancer. I've focused my writing and speaking on helping cancer patients and their families advocate for themselves and live life to the fullest, in spite of their illness. My goal is to help people face cancer with grace.
My book Facing Cancer as a Friend: How to Support Someone Who Has Cancer, is available on Amazon.com
Also, check out Facing Cancer as a Parent: Helping Your Children Cope with Your Cancer.
Also, put your memories into words with The Memory Maker's Journal.
I also blog at Heather Erickson Author/Writer/Speaker

Footnotes:
Journal of Pain and Symptom Management Vol. 33 No. 3 March 2007. Comparing Hospice and Nonhospice Patient Survival Among Patients Who Die Within a Three-Year Window. Stephen R. Connor, PhD, Bruce Pyenson, FSA, MAAA, Kathryn Fitch, RN, MA, MEd, Carol Spence, RN, MS, and Kosuke Iwasaki, FIAJ, MAAA, National Hospice and Palliative Care Organization (S.R.C., C.S.), Alexandria, Virginia;
and Milliman, Inc. (B.P., K.F., K.I.), New York, New York, USA
NHPCO Facts and Figures: Hospice Care in America. Alexandria, VA: National Hospice and Palliative Care Organization, September 2015