I'm doing double duty this month during the A to Z Blogging Challenge. Here at Facing Cancer with Grace, I will focus on caregiving. I'll also be doing the challenge at Heather Erickson Author/Writer/Speaker, where I will share ways to increase your creativity. I hope you'll visit me at both sites. While you're here, sign up for my email list. Today's post is J for Joyful Despite Cancer.
How can you feel joyful…
…when a loved one has cancer? When we first learned that Dan had cancer, we were stunned. How could this happen? How could my husband of 3 years, be given a death sentence? I felt devastated, even angry. We went through all those classic stages of grief. I was even disappointed in God. It seemed so unfair. Dan and I had a dream marriage. He had just adopted our 3 daughters. We went on annual mission trips and had our family routines. Why us? Why now? I felt many different emotions. Joyful wasn't one of them.
In order to stage my husband's cancer, the doctor ordered a PET scan. While Dan was having the scan, I spent a lot of time in prayer. Then, I decided to call a former pastor of ours. He and his wife moved out of state a year earlier, so we got caught up on what was happening in our lives. He could tell that I was really struggling with Dan's diagnosis. So, he gave me the best advice that I may have ever gotten. He said,
"Don't think about what you could lose. Think about what you have."
Those words changed my outlook and helped me become joyful again, despite Dan's cancer.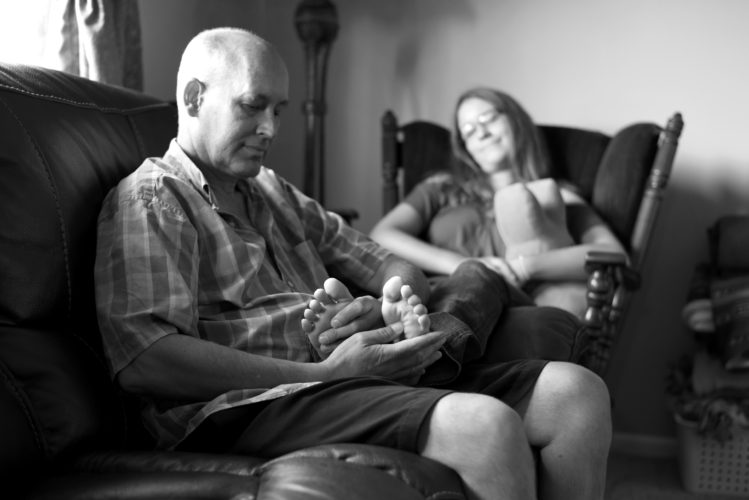 Our life as a family…
…has always had a beautiful rhythm to it. We have routines and traditions that define us:
books that we've read as a family
praying together
going to church together
watching a TV series as a family
family trips
walks/hiking
Dan making our coffee every morning and filling the gas tank so that I never need to.
get-togethers with Dan's parents and siblings
quiet time in the living room
Those things help make this life joyful. When things are difficult, we hold even tighter to these things, remembering how precious they are. We live in awe of God's grace. We soak it all in with gratitude.
July 2016
Dan had a scan result that pushed us back into reality. It looked like his cancer was progressing again. I remember being in the car, crying, as I thought of what could lie ahead; all the difficult things that Dan would go through. And, in the end, he would die.
I thought about that, about living without him. Then, I thought about what that would mean for him. He would be in the presence of Jesus. I pondered that for quite a while and it gave me such joy. Dan loves Jesus more than anyone and anything. As much as he loves me and the kids, he loves Jesus even more. To be in His presence would be the most wonderful experience he could have. That gave me the strength to face whatever would come our way.
The following month, for reasons that to this day, baffle Dan's doctors, his cancer retreated and has stayed at bay ever since. He recently had metastases in his spine, but that too has been healing.
October 2012
When doctors told Dan, four and a half years ago, that he had stage IV lung cancer, we could have stopped living. We could have thrown in the towel, but instead, we chose to live a joyful life in spite of cancer.
If you are facing something that seems insurmountable, don't give up hope. Instead, think about what you have and trust God with it. Then live your life with joy,
Resources
I'm in the early stages of putting together a resource page for caregivers of cancer patients. I'd love it if you'd check it out and email me any suggestions of resources you'd recommend. While you're here, sign up for my email list to get a periodic email newsletter to encourage you on your cancer journey.
WHAT ARE YOUR THOUGHTS?

I'd love to hear in the comment section, below. I appreciate my readers as well as the writing community. To show that appreciation, I use Comment Luv. Just leave a comment below and your latest post will get a link next to it. Thank you!
In 2012 doctors diagnosed my husband, Dan, with stage IV lung cancer. Since then, our family has been learning what it means to face cancer. I've focused my writing and speaking on helping cancer patients and their families advocate for themselves and live life to the fullest, in spite of their illness. My goal is to help people face cancer with grace.
My book Facing Cancer as a Friend: How to Support Someone Who Has Cancer, is available on Amazon.com
Also, check out Facing Cancer as a Parent: Helping Your Children Cope with Your Cancer.
Also, put your memories into words with The Memory Maker's Journal.
I also blog at Heather Erickson Author/Writer/Speaker