The metaphor of a rollercoaster is often used to describe cancer, and for good reason. The ups and downs of your emotions, your schedule and the status of your health affect a patient and their family from the moment you suspect there's a problem. This is especially hard for children, who have far less information than adults do, about what's happening, They depend on their parents to help them know how to respond to these peaks and valleys. The first thing you can do to help your children through a recurrence of your cancer is to assess how you're handling things.
The good times
After enduring the hard times of cancer treatment and finally being declared NED, in remission, or even "cancer-free," you want to celebrate. At the very least, you want to breathe a sigh of relief and go back to life as normal. Thankfully, you are soon feeling like the old you. But still, it's hard. Every twinge of pain makes you wonder if it's back. Afterall, everyone responds differently to various forms of treatment.
Just as you rely on your care team, they rely on you to communicate with them in order to catch a recurrence of cancer. Just like the first time you go through treatment, early detection of disease activity is crucial. You dread your return appointments to the doctor. What if they find something?
Then, One day they do
The results of a scan come back and the doctor tells you it's a recurrence. The rug is pulled out from under your feet. It feels very much like the first time the doctor told you it was cancer. You have the same fears and questions as you did when cancer first came in your life, except now, you're more physically beaten up from various treatments. You may also be running out of treatment options. Your kids are older and very aware of the difficulties that come with each new treatment plan.
My Tip
We've always tried to have another treatment option waiting in the wings so that if the current treatment isn't working, we know what the next step is. That's helped us to feel less overwhelmed at scan time. This time, though, we have no idea what happens next.
Keeping in touch with your care team
It's important that you have a good relationship with your medical team. If you feel you can trust them, it is much easier to walk into the unknown. They'll help you to know whether side effects are temporary, how long they might last, and if a side effect warrants going off of a drug.
Knowing that you trust your medical team will help your children to feel better about things. It's a good idea to periodically clarify your goals with your care team.
Is your cancer (still) curable?
What kind of life extension does your doctor think you can get from a given treatment?
What is the plan, if this treatment doesn't work?
How can you relieve pain and other side effects?
All of these are things are important to know as you're weighing your treatment options. Your children will also want to know about these things, especially if they are school age or older.
Only you can decide what is right for you and your family. Even when the medical options run out, or you choose not to pursue them, you can still have quality time with your family.
A Second opinion never hurts.
Whether you've just been diagnosed, or you are having a recurrence of your cancer, it's your life on the line. That being said, it is very likely they will affirm what your doctor is doing. That affirmation can go a long way toward you feeling comfortable with your treatment and building trust with your medical team. Make sure that you let them know about your goals for treatment and bring a full set of medical records with you.
Be prepared
When starting a new course of treatment, make sure that you have the proper medications on hand to control potential side effects you may experience over the weekend, or in the middle of the night when it's more difficult to reach your doctor. You don't need to suffer. There are ways to alleviate the side effects of treatment as well as the symptoms of the disease. In order for your doctor or palliative care specialist to best help you, you need to tell them if you are having problems.
The effect of recurrence on your family
Our daughter, Emily described the feeling of recurrence from the viewpoint
of a patient's child. "Can't he just be okay? I just want him to be okay. It really is a roller coaster of emotions for us [kids} as well. If you have your own issues that you're dealing with, they become maximized with each recurrence."
This is true. Examining the impact of recurrence on survivors of cancer and their family members, it has been observed that, "Cancer recurrence is described as one of the most stressful phases of cancer. Recurrence brings back many negative emotions, which are different and may be more intense than those after the first diagnosis of cancer. Survivors and their family members have to deal with new psychological distress." (1)
Teach your children well
It's hard to go back to the grind of treatment or change to a new one with uncertain side effects and results. Enduring another course of cancer treatment is quite a lesson in delayed gratification, for your children. It shows them what you are willing to do for a time (now), in the hope of having more quality time with them, later.
Recurrence doesn't mean it's the end: Our Story
My husband gets his treatment from the University of Minnesota. When he was first diagnosed, we went to the Mayo Clinic in Rochester, MN with the blessing of his oncologist. The Mayo, in turn, said he couldn't possibly be getting better care. This helped us feel secure with his treatment plan. This made it worth getting a second opinion, even though it didn't change his actual treatment.
We put on brave faces for our kids. Still, they were crushed when I told them about the scan results. They'd had four years on this roller coaster. During that time, they'd made many friends with parents who have cancer. They had seen some of those friends lose a parent to cancer.
We had a month to absorb the shock. Dan took a couple of short trips that needed to happen before he started treatment again. Melissa Turgeon from the Angel Foundation came to our home with an intern and a photographer and gave us some amazing memories. They made plaster molds of Dan's hand and of our hands together. The photographer captured those moments as well as some very fun family pictures. We were preparing for the end of those kinds of good times.
Plaster Casts
When I told the girls, they were happy but hesitant to get too excited. One of our daughters said. "We've just seen this so many times; up and down, up and down." The girls were now older and more experienced with this dreaded disease. They knew what was ahead. We had plaster casts made of Dan's hands and one of his hand and mine together. The Angel Foundation arranged to have a photographer capture our family on film before things changed…again.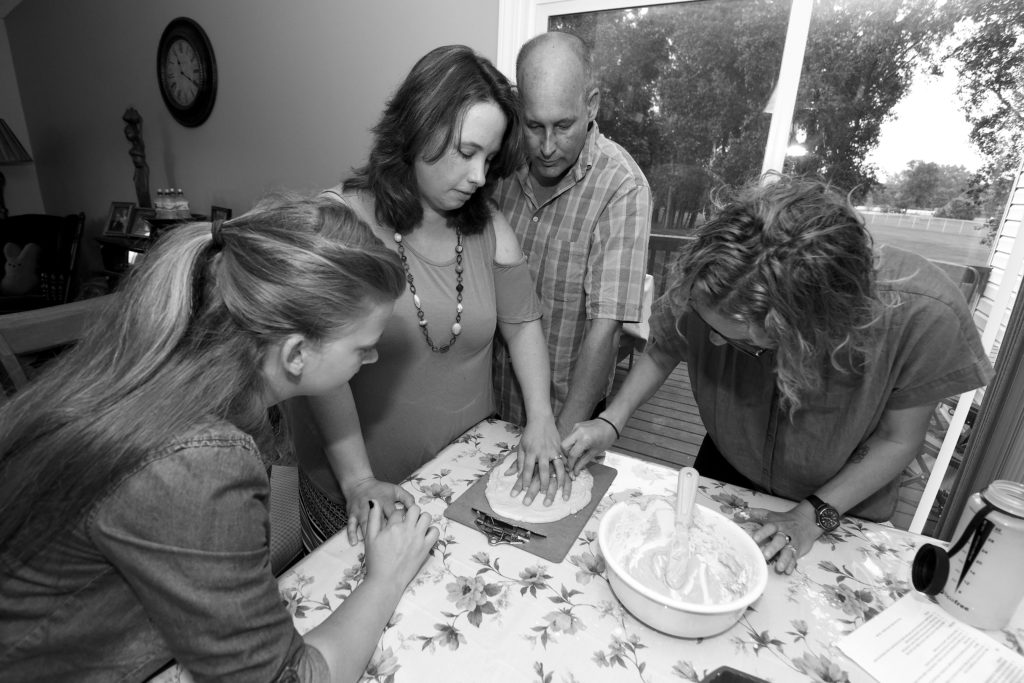 Surprise!
Then, Dan went back in for a pre-chemo CT scan, just to get a baseline of where he was. The cancer that was on the previous month's scan was mostly gone! So, back on the Tagrisso Dan went.
After 2 years of Tagrisso, the cancer again progressed. Gemzar and Cisplatin were used for a while, but it's no longer responding to treatment and the University of Minnesota has run out of options for him.
The end of the line?
Having nothing left with which to barricade the door to death is frightening. It can feel like the end of the line. Dan will return to the Mayo Clinic in the hope that they will have an experimental treatment that he can try. The treatment might work, but it might not.
It really is a roller coaster.
It's okay to grieve
While it is best if your kids see you as being in control of your emotions so that they aren't afraid, it is still okay to grieve. In fact, it is very healthy. You may feel frustrated by the news of recurrence. You've done everything that you were supposed to do and now you are back in the chemo chair.
Often, everyone in the family is trying to be strong, leaving others in the family to wonder if they are the only one hurting and if it's even okay to feel like they do. It's helpful for families to take some time to talk together about their feelings. It can help each member to know that they aren't the only one who is sad (or angry or frustrated, etc.) about the recurrence. Then, you can roll up your sleeves and move forward in the way that is best for you and your family.
More…
For more information about how to help your family through your cancer journey, check out my latest book, Facing Cancer as a Parent: Helping Your Children Cope with Your Cancer. It's available in paperback and Kindle!
What Are YOUR Thoughts?

I'd love to hear in the comment section, below. I appreciate my readers as well as the writing community. To show that appreciation, I use Comment Luv. Just leave a comment below and your latest post will get a link next to it. Thank you!
In 2012 doctors diagnosed my husband, Dan, with stage IV lung cancer. Since then, our family has been learning what it means to face cancer. I've focused my writing and speaking on helping cancer patients and their families advocate for themselves and live life to the fullest, in spite of their illness. My goal is to help people face cancer with grace.
My book Facing Cancer as a Friend: How to Support Someone Who Has Cancer, is available on Amazon.com
Also, check out Facing Cancer as a Parent: Helping Your Children Cope with Your Cancer.
Also, put your memories into words with The Memory Maker's Journal.
I also blog at Heather Erickson Author/Writer/Speaker
Footnotes:
'Again': the impact of recurrence on survivors of cancer and family members. J Clin Nurs. 2010 Jul;19(13-14):2048-56. doi: 10.1111/j.1365-2702.2009.03145.x. Vivar CG, Whyte DA, McQueen A.